Please follow and like us:
With a Fall chill in the air,  I must confess it is time for a soup recipe.  Well, it's actually warm and sunny in San Francisco right now, but there you go!  We are the exception.   You won't find this recipe boring, typical or hard to create.  What you will discover is if you've got an Instant Pot or another pressure cooker, that this is such an easy meal in a bowl, that simply whip up at a moment's notice.
Have you cooked with an Instant Pot  yet?  It's basically an electric pressure cooker, simple and easy to use. Much easier than a conventional pressure cooker, which I was always scared to use. What I love about the Instant Pot is that it's a 7-in-1 Multi-Functional Cooker – including a pressure cooker, slow cooker, rice cooker, saute/browning, yogurt maker, steamer and warmer. Plus, it has a stainless steel cooking pot and steam rack – LOVE that! I still use my ceramic slow cooker for the chicken bone broth or veggie stock base, but once that's done slow brewing overnight, the base is perfect for this recipe. Ready for my Essential Instant Pot Minestrone Soup recipe? It's so easy to make. You'll be done from start to finish in less than 20 minutes.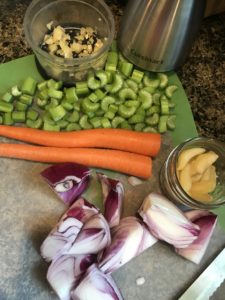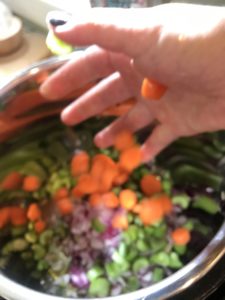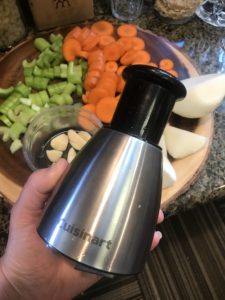 Ingredients
2 tbsp lard or olive oil

2 stalks celery, diced

1 large onion, diced

1 large carrot, diced

3 cloves garlic, minced, I love my Cuisinart Chopper, it works great and it's fast, plus little hands and little helpers in the kitchen can help.  My kids love to chop!

Sea salt , to taste

28 oz can (I prefer) San Marzano tomatoes , or your fresh tomatoes if you have, you can use this amazing blender to pulse them

15 oz can (or about 2 cups freshly cooked, drained) kidney beans

4 cups bone broth or vegetable broth

1 bay leaf

1 cup gluten-free elbow pasta

1/3 cup finely grated parmesan cheese (omit for vegan option)

1-2 tbsp fresh pesto (optional)

Set Instant Pot to saute mode. Add olive oil, onion, carrot, celery and garlic. Mix until softened.

Add salt to taste

If canned tomatoes are still whole, pulse tomatoes and liquid in can in a blender for a few seconds to dice tomatoes.

Add tomatoes, bone broth, bay leaf, and pasta. Close lid and set to manual high pressure (HP) for 6 minutes. It will take about 8 minutes for the Instant Pot to reach high pressure, then it will cook for 6 minutes.

When timer goes off, let sit for 1-2 minutes. Then set to quick pressure release to vent steam.

Remove lid and add kidney beans and essential oils.

Serve in bowls and garnish with parmesan cheese and a dollop of pesto.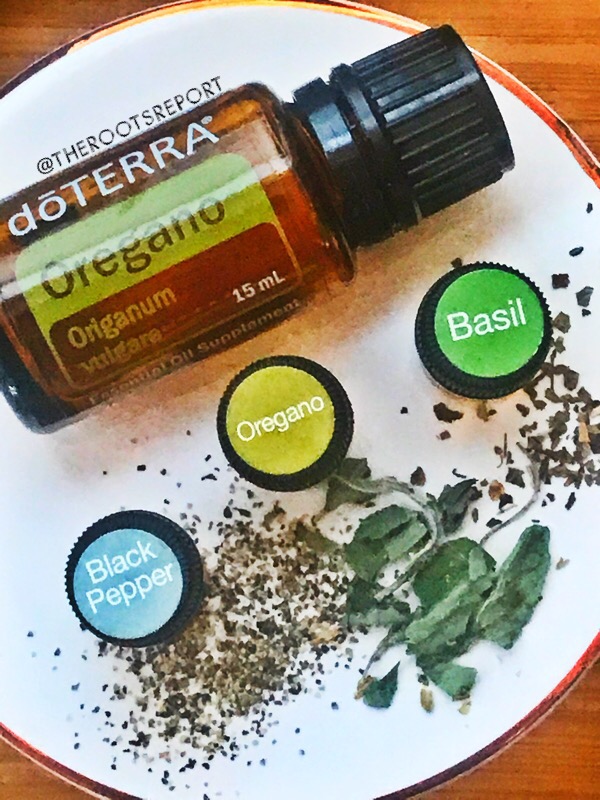 I like to transfer my stronger cooking oils into a smaller dram size, because it's a good idea to go slowly with the oils.  With the smaller size drams, you can get 1/4-1/2 drop out at the tap of your finger, when cooking smaller batches.  I've been known to ruin a perfectly good recipe by overdosing on  essential oils, and I urge you to start small and taste to see how your prefer it.  You can use either 1mL (1/4) dram OR 2mL (5/8) dram. Up to you, but definitely less is more when it comes to cooking with essential oils.