🎃OCTOBER🥞
Welcome to a new month.  October is my very favorite month of all time.  This is the month I became a Mama for the first time.  I fell in love with my Fall baby, as soon as she arrived, I would stare at her for hours while she slept in awe.  Of course self-care went right out the window so many moons ago.  But October is truly the month of self-care.  As the days get shorter, the nights get longer, and the temperatures drop, please take some time for your self this month.   Lets explore some exciting happenings this month.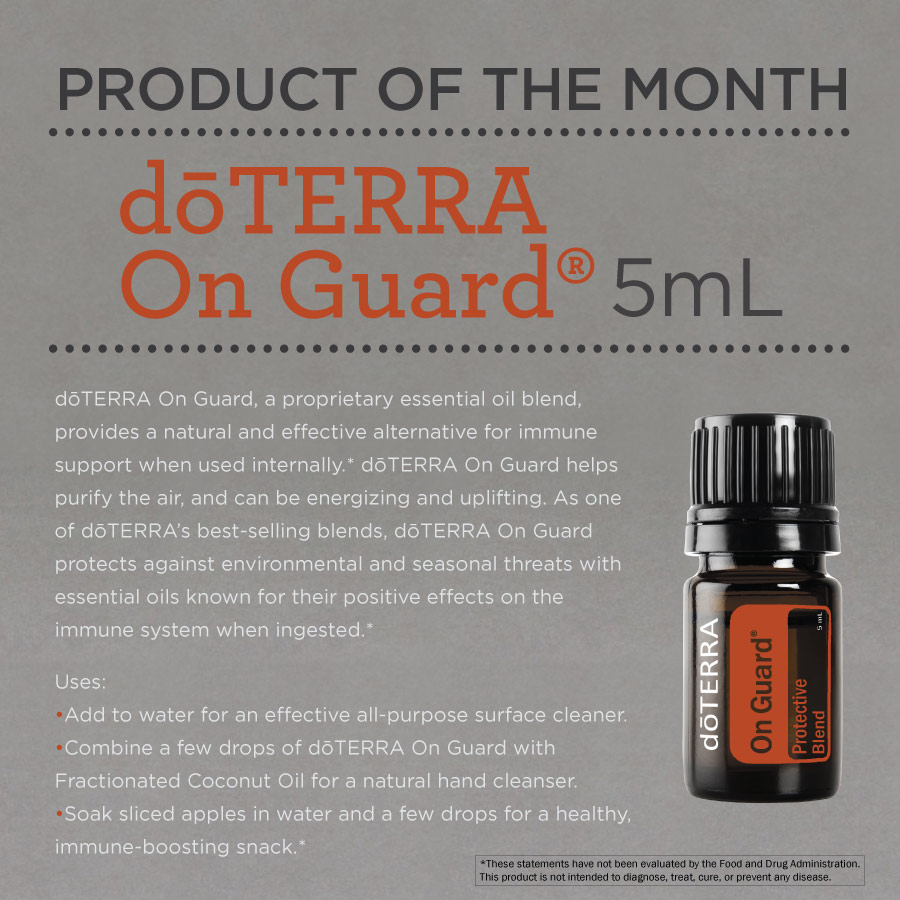 First off,  if you've got your LRP all set up, then you are automatically included in the FREE PRODUCT OF THE MONTH CLUB.    On Guard Protective Blend is perfect for the season.  Place a minimum 125 pv this month, and the On Guard is yours FREE!  You all know by now, that I spend money like there is no tomorrow , but I am also keenly aware and alerted to a great value.   Read dōTERRA's blog about it's uses and benefits.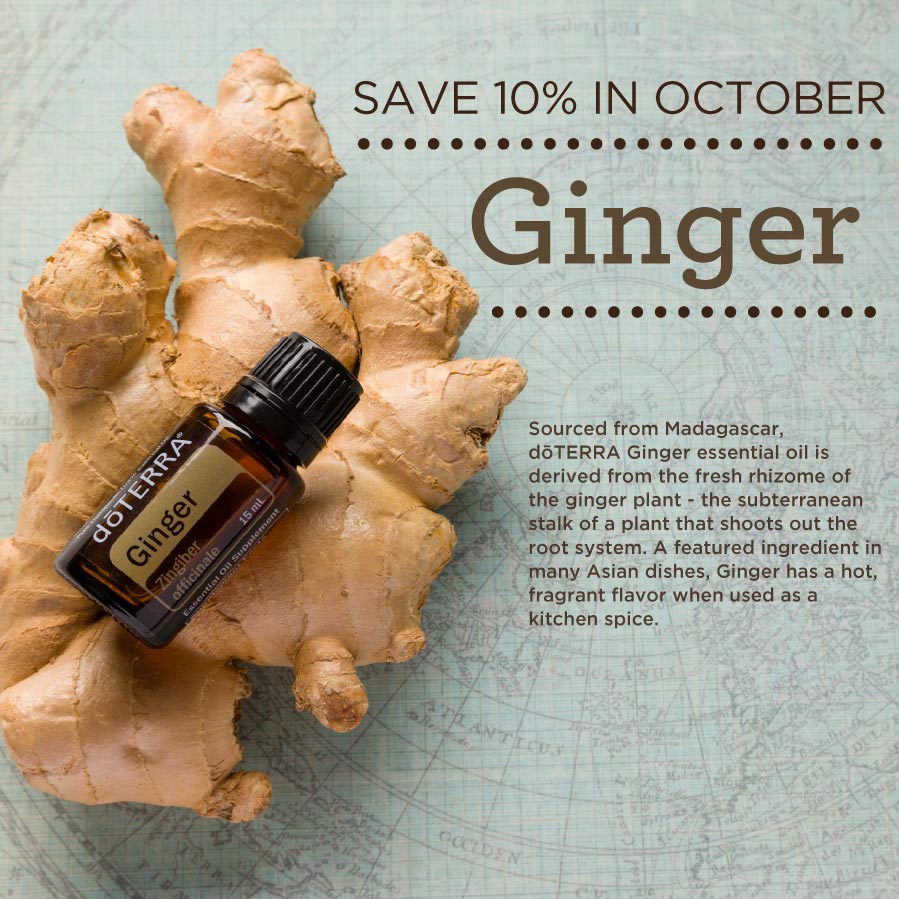 Next up we've got a discount of 10% off of Ginger, newly sourced from Madagascar!  If you don't already have this amazing oil, you MUST grab it.  I love it in my hot chocolate.  It is so perfect for sweater weather.  It also pairs nicely with pumpkin spice latte's, or to flavor sweets.  Yum!  Read more about Ginger and find some awesome recipes here!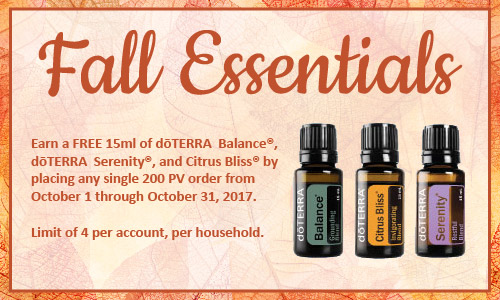 And lastly, I am in a tizzy beside myself,   to announce the Fall Essentials Promo!  Basically, you can earn FREE 15mL of  Balance, Serenity and Citrus Bliss by placing any single 200pv order this month of October.  You are allowed to get up to 4 separate orders.  This means 12 FREE 15mL amber bottles of these oils. That's 4 of each oil blend FREE!  Holy Moly Mackarel,  I am feverishly hot and bothered about this promo.
Go get on it  — you know you want it.
Learn more about the LRP (loyalty rewards program) and how you can GET YOUR OILS FOR FREE.  Ready to manifest a higher vibration and experience the amazing benefits of plant magic?  Let's get started!
🍂SEPTEMBER
🍁
Hey you guys I have failed you, I became so incredibly abundant (meaning chaotic and busy) that I spaced on posting the amazing promotion that we have going on for you all in SEPTEMBER!  I don't have everything under control because I am moving so fast! However, luckily for Yōu , It was extended an extra month.  I love it when dōTERRA does that.  It gives people another opportunity to join the generous LRP program and explore more health benefits of even more products.  Lord knows, I was kicking myself for days, no weeks, when I fell asleep on the Serenity/Balance BOGO last BOGO Week we had, and I was really upset with myself for not ordering before deadline! So here is another day for you all to check out what's in store for you when you join this month.  But hurry because as I sit and write this post, it's already 1:41 AM Pacific time on Saturday September 30!  This offer expires on October 1, 2017. Be sure to read my descriptive blogpost on why I truly believe that LLV is the best vitamin I have ever taken, even better than my prenatal vitamins (which made me úber-queasy)!  Ready to manifest a higher vibration and experience the amazing benefits of plant magic? Let's get started!
🌻AUGUST:🏄🏻‍♀️
Now that we are officially in August it's time to get the kids ready to go back to school. This really is an important time to start supporting immune systems, and to get back into those healthy sleep routines to make the transition easier for everyone. I love knowing that I can accomplish this with safe and natural solutions. The best part about dōTERRA is that, no matter what life change you are experiencing, there are products and oils to help you get through it.
Boost your kiddo's immunity proactively before school starts with some of the finest quality supplements money can buy. I want the best for kids, and I know you want the best for yours too.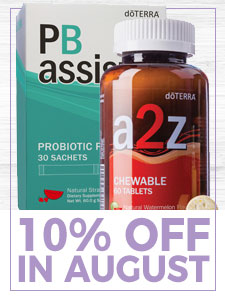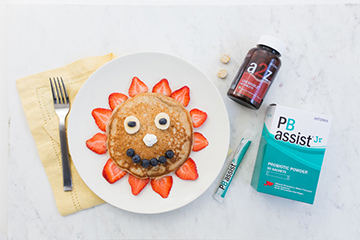 Lime is the OIL OF THE MONTH!

 JULY🚵🏻‍♀️
Save 10% in July on the dōTERRA Spa Detoxifying Mud Mask.
Breathe Blend is the free product of the month.  Ask me how.
____________________________________________________________
🐞JUNE🌞
June 2017 IMMORTELLE Promo is OFF THE HOOK!
🌖
Check out the photo below to learn more.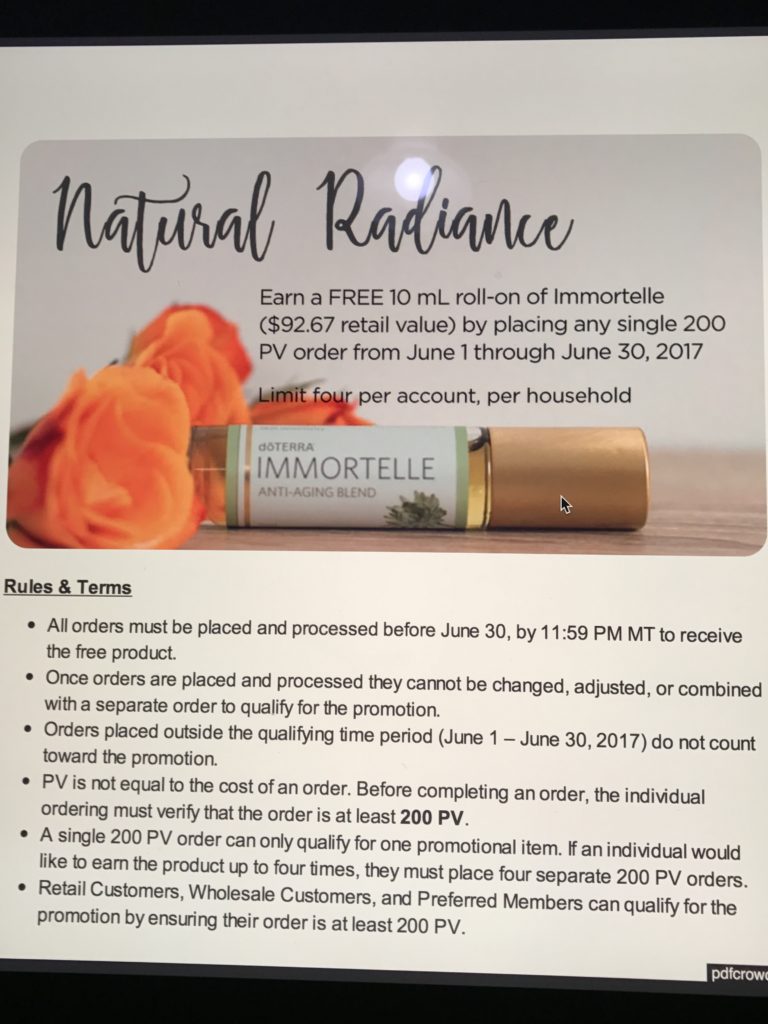 To find out what the 10% off and free oil of the month is please click on the link below:
doterra_com_US_en_promotions_june_2017_pom
You heard that right, you get FREE Serenity with minimum 125PV order!
Amazing deal.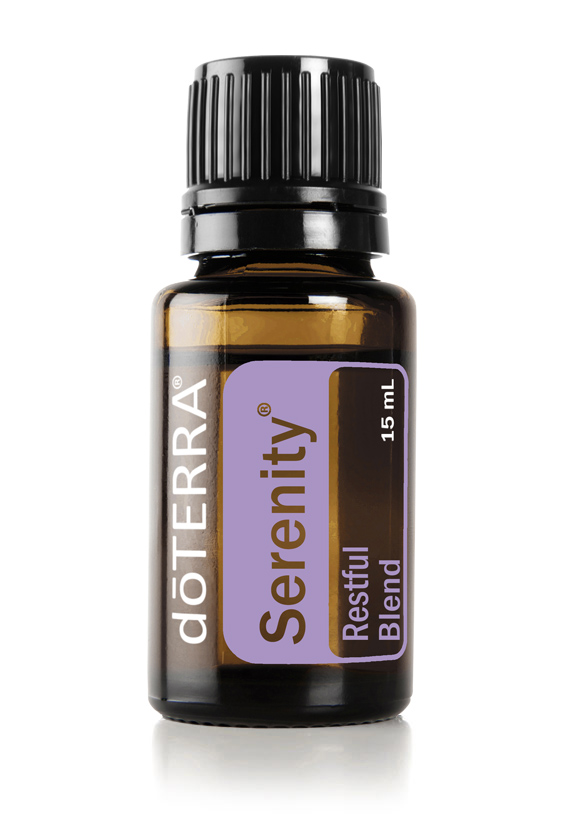 ____________________________________________________________________________________________________________________________________________________
💐MAY🌺
May 2017 Promos are the BEST Yet!
Enroll NOW — (as a Wellness Advocate, before Cinco de Mayo,on May 5th, 2017 and get this amazing 500mL overnight diffuser FREE, in your Welcome Package.  After May 5, 2017, for the ENTIRE month of May, when you enroll as a Wellness Advocate,  I will send you a limited edition Owl Ring as another lovely little token of gratitude, for joining the WiseCoreEssentials Team!
And that's not all we have on tap this month! 
Check out the amazing Promotions dōTERRA is offering :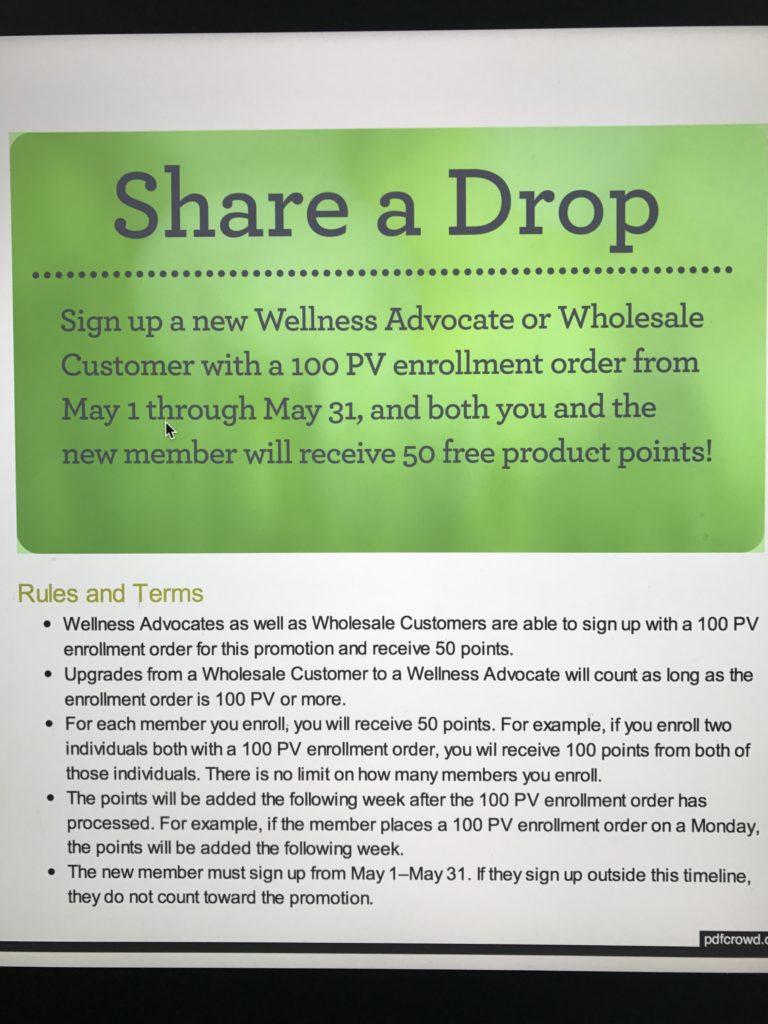 For all existing Wholesale Customers and Wellness Advocates signed up with dōTERRA check this out! Cedarwood is the Oil of the Month.   Learn more about this oil and place a minimum order of 125PV, to get it FREE!  It is a large bottle 15mL. Be sure to place your LRP order before the 15th of the month to qualify for your FREE Cedarwood in May 2017!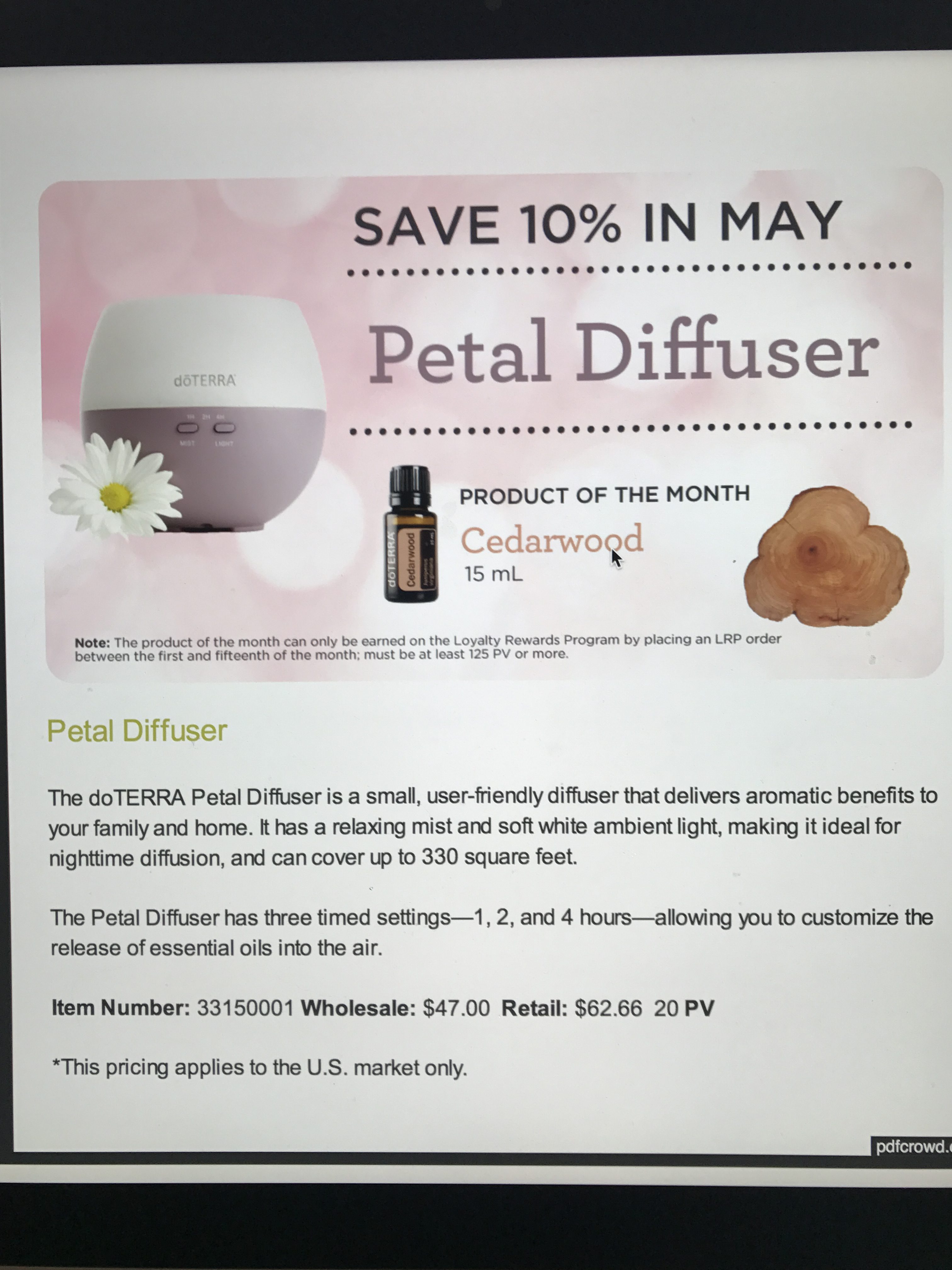 _______________________________________________________________________________________________________________________________________________________
🌧APRIL🌈
APRIL 2017 dōTERRA promotions you will love to get.

Welcome April.  We have some amazing promotions for you this month to help with congestion, digestion and/or inflammation.  Save 10% on dōTERRA's Breathe Vapor Stick.  These are awesome if you are congested.  Just rub on your chest to help open your airways! The Product of the Month is DigestZen (5 mL). The product of the month can only be earned on the Loyalty Rewards Program by placing an LRP order between 4/1-4/15 and must be at least 125 PV or more.  Also extended is the Deep Blue promotion! Earn a FREE 10mL of Deep Blue Touch and Deep Blue Rub ($94.67 retail value) by placing any single 200PV order from April1-15, 2017.  Limit 4 per household.  My lower back was hurting bad earlier, so I rolled the Deep Blue Touch on there and it felt so much better afterward. I am going to do some yoga tonight to loosen it up. Furthermore, we always have incredible deals for new wholesale accounts, so if you are getting a tax refund like me, (YAY!), April is a terrific month to Spring into Health.  Please contact me for details!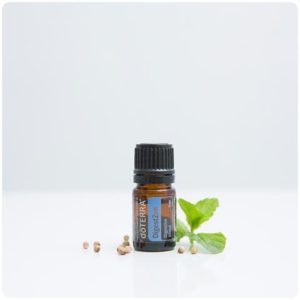 DigestZen is yours FREE this month,  April 2017 with a minimum 125PV order.               
125 PV (point value) is for Wholesale Customers & Wellness
Advocates.   125 PV is approximately $125.

This Breathe Vapor Stick is 10% off this month, April 2017.
CLICK HERE TO LEARN MORE ABOUT THE LOYALTY REWARDS PROGRAM AND HOW YOU CAN GET YOUR OILS FOR FREE!
The FriscoChicken Files, not just a BLOG.
A curated account, which details all of the offerings,
I am so passionate about sharing with you.
---