Why Spend More For Quality Essential Oils?
This was one of my first questions as I learned about quality essential oils. I noticed was there is a wide spectrum of prices for essential oils on the market. You can pay $5 for one kind of oil by one brand or $50 for a bottle by another brand. What's the difference?
One thing I'm learning is that the same plant can have different compounds and constituents depending upon what variety it is, where it's grown, how it's processed and what parts of the plant are used. Location of the plants is extremely important, and that is why dōTERRA uses only native to the region plants to source their oils to you.
Usually, there is one specific part of a plant that contains essential oil of the highest therapeutic value. Many producers use additional parts of the plant because they smell the same, but they don't have the same amount of compounds or potency.
Many essential oils are extracted with chemical solvents. It's hard to remove these solvents completely and makes the production process more expensive. As a result, most companies in the past have not been willing to pay the extra expense to do this extra step or buy more expensive oils extracted a different way. Some companies dilute or adulterate their oils to make more money. Ghastly, I know!
In fact, the FDA requires that only 15% of an actual oil be present for a company to claim it as being 100% pure. Don't you be fooled.
This is why it's traditionally taught that essential oils should not be taken internally.  It's true that many brands of essential oils are unsafe to take internally. If you have essential oils in your possession, right now, go take a look at the label.  Most likely, it will say, "not to be ingested".
I've been asked many times why I recommend dōTERRA  in particular. It is because I have never found another organization like them.  doTERRA is absolutely committed to having the purest oils possible. They go to great lengths, developing personal sourcing relationships and spending the money it takes to do so. Not only do they outside-test all batches of oils to make sure they are pure, they also measure the oils to verify they have the correct amount of therapeutic compounds.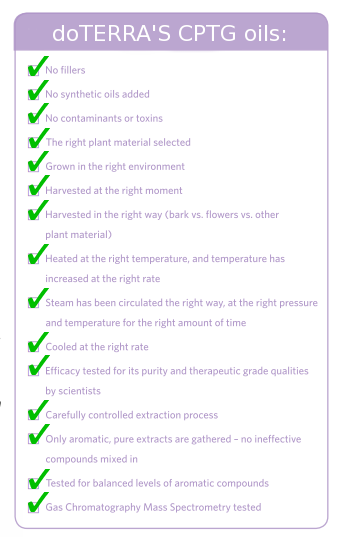 As a result, dōTERRA  products are safe to take internally within recommended guidelines. I have been using their products since 2016, and have been amazed at the power and purity of their essential oils. My nose has gotten better at detecting differences in quality between brands. Some are so obvious when you have something really pure with which to compare.
dōTERRA is definitely a pioneer in the field of essential oils. They promote scientific research. I know people who have already had success with them in the areas of all types of healthcare. 
There are many reasons why I love this company.  dōTERRA offers items I just cannot  find from other companies.
– Beautifully printed educational materials (even their catalog has usage charts)
– Free videos and webinars
– A generous rewards program for monthly auto-ship ordering
– An opportunity to pay for my oils by sharing them with other people
– A wellness philosophy I genuinely support
This is why I am so loyal to this brand,  their products and the company. dōTERRA has raised the bar of quality for essential oils to an exceedingly high degree.
The Best Way to Get High Quality Essential Oils
Okay, so you truly understand the power of essential oils to support, cleanse and nourish your body, relieving minor problems, creating vitality and maintaining optimal health. Yay!
And you are also serious about purchasing the highest quality essential oils on planet Earth. Bravo!
If you're anything like me, you want to be sure to get the most value for your dollars, right?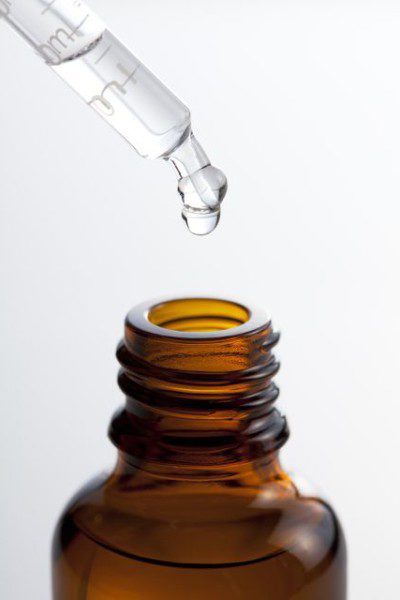 Here are Many Ways to Purchase Essential Oils
JUST OKAY: Just buy retail somewhere. It's easy.
GOOD: Buy something off the shelf at the health food store. But be aware that the FDA only requires 15% of the oil to be in the bottle for the manufacturer to claim it's 100% pure on the label. So many of the products you find, will not actually be 100% pure, even if they say they are on the label.
BETTER: Get wholesale prices from a trustworthy company with a membership, or get the membership free when you enroll with an enrollment kit. Sign up with whoever.
BEST: Get an enrollment kit and membership with someone you trust. You will quickly discover that you use up some oils faster than others and develop favorites. Replenish these and try new products on a loyalty program. Over time, this is the BEST way to go, because you can get twice as much discount. It's certainly worth ordering something each month. Try to find an option with shipping credits. It makes a world of difference!
Go ahead. Try some. You'll be able to tell a difference too!
If you are ready to start using essential oils?  Thrive Now.